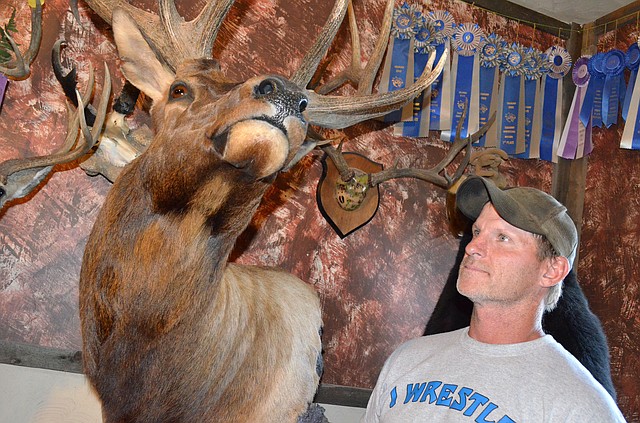 Dozens of eyes stare down from the walls of Mark Zimmerman's workshop on the outskirts of Craig, each belonging to an animal that, if it weren't completely motionless, you would swear was still alive.
That's the aim of Bullseye Taxidermy, a business he has operated full-time for the past 13 years. In that time, he's stuffed and mounted countless critters from a myriad hunting trips, many of which have earned him some prominent prizes.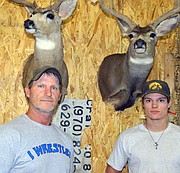 Besides the trophy elk, deer and bears that can be glimpsed within the Bullseye lobby, the wall is festooned with years of blue ribbons from a variety of taxidermy contests, the most recent being the 2016 Colorado State Taxidermy Championships, hosted in early June in Montrose.
Mark took Masters Best of Category Gamehead, Taxidermist Choice Gamehead and the United Taxidermist Association Artisan Award for Taxidermist Choice Best of Show for a six-point bull elk selection he entered, an animal shot by his mother, Margie, two years ago.
He noted that he normally doesn't use older bulls due to the frequency of scarring from years of fighting but found the elk had a beautiful cape that would look ideal.
"There's a lot more to putting something together than just putting a set of eyeballs in there, putting the skin on it and calling it good," he said.
Though he got basic training in the trade and graduated from Colorado Institute of Taxidermy in 2003, it was primarily through competing in shows that Mark said he began to improve, picking up crucial tips from seasoned pros.
"I learned I need to know the anatomy of the animal," he said. "If you can put him back as close to what Mother Nature did, you can't go wrong."
He's showed his work at contests primarily in the region near home, including Wyoming, Utah, Idaho, Montana and New Mexico, as well as a national event in Arkansas, though he's stopped short of going international, mostly due to the time and cost of traveling and transporting mounts.
The discipline is one that requires the dedication to properly preserve the materials brought in by a customer — even if they haven't taken the best care of it up to that point.
Mark's goal is to craft a piece that will last for many years, potentially a hunter's lifetime if they take proper care of it.
"Knock on wood, but I have never had anybody bring a mount back and say, 'hey, you need to fix this,'" he said.
Leading up to hunting season in the summer, Mark has some help in the shop from his 16-year-old son, Drake, whom the elder Zimmerman said began showing his talent at an early age.
"When he was 5, 6 or 7 years old, I'd cut off pieces of foam from my form that I didn't need, and he'd take those and sculpt them into animal shapes," Mark said. "He's got an artistic eye, and that's why he's really good at it."
Drake said he's picked up plenty of tips and tricks, but the goal of making something look lifelike is always a little bit tough.
"You're using hard materials, and you want to make everything look soft," he said.
While innate skill is a plus, the father and son also share a mantra that guides them in their line of work, and it's served them well in providing quality pieces.
"Do it right the first time."