Applications for deer, elk, pronghorn, moose, sheep, goat and bear are due April 2, according to a Parks and Wildlife news release.
1 Vote
Colorado Parks and Wildlife hunting and fishing licenses for the 2013-14 season are on sale at retail outlets, Parks and Wildlife offices and online. The deadline to apply for a big game hunting tag is April 2.
1 Vote

Every hunting season, Colorado Parks and Wildlife officers issue thousands of tickets for violations that can result in steep fines for the offenders. "While some of those tickets are for flagrant violations of wildlife regulations and hunting laws, many more are for minor violations that could have been avoided," Parks and Wildlife reports in a recent news release.
1 Vote

Welcome to the 2011 issue of Colorado Hunter, the premier guide to big-game hunting in this beautiful place we call Northwest Colorado. There's a reason the hunters among us call the region home. Come fall, it offers some of the best deer and elk hunting in the world, whether you're pulling back a bow or sighting in a scope.
0 Votes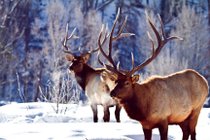 0 Votes
DEER: • Resident — $34 • Youth resident — $13.75 • Nonresident — $334 • Youth nonresident — $103.75
0 Votes

For Eric Gray, the transition from late summer to fall and into early winter means big business. As the manager of sporting goods outlet Craig Sports, Gray sees hunters come in and out of his store ready to bag a big one. And, even with the national economy still in flux, Gray said he has not seen much of a dip in sales. The fourth season of hunting through the Colorado Division of Wildlife came to a close on Nov. 21. The season for licensed limited rifle hunters of deer, elk and bear had varied effects for local businesses.
Prev Next