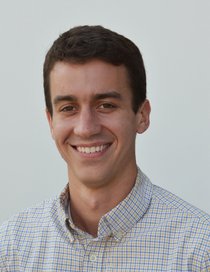 Nate Waggenspack is the Craig Daily Press sports reporter. He came to Craig in May 2012 after being born and raised in Kettering, Ohio, in the southwestern part of the state. He attended Alter High School (go Knights) and received a degree in communication from the University of Dayton (go Flyers). While not watching or reporting on sports, he enjoys watching movies, running and craft beer.
Recent Stories

The 2013 hunting season in Northwest Colorado is shaping up well despite concerns about new firearm legislation that took effect July 1.
While hunting magazine Outdoor Life shelved its annual top sportsmen's towns listing this year, two cities in Northwest Colorado still are riding high on the accolades of their most recent rankings. In 2012, the magazine ranked Grand Junction sixth and Craig 20th in its annual Best Towns for Sportsmen compilation.

Trent Parrott, 18, brought back a six-by-six bull from Game Management Unit 2 in northwest Moffat County this muzzleloader season after drawing one of the toughest tags to get in the state.
The Colorado Parks and Wildlife Commission will convene for a meeting Thursday and Friday to review 2012 accomplishments and discuss new information for 2013. The meeting, which will be held in conjunction with the State Land Board, will start 8:30 a.m. Thursday at the CPW Denver campus at 6060 Broadway St.

A Moffat County High School student got a once-in-a-lifetime hunting opportunity and made the most of it. Molly Nations, 17, drew a bull moose tag in just her fifth year putting in for tag. The 1-in-14,000 chance fell in Nations' favor, though, and she got the most difficult tag to get a hold of in Colorado. "For most people it takes about 20 to 25 years," Nations said of getting a bull tag. "So I got really lucky. Everyone that I talked to said they've put in more years than I've been alive."
With four seasons of elk and deer hunting gone, the largest draw for hunting in Moffat County has passed. Unfortunately, due to mostly warm weather conditions throughout October and November, those seasons did not yield fruitful harvests for many hunters. Colorado Parks and Wildlife collects information from the ground by talking to hunters after they return, and after slightly below average estimates on elk hunting through two seasons, the numbers did not improve. Bill de Vergie, Area Wildlife Manager for Area 6 (which encompasses Moffat and Rio Blanco counties, as well as parts of Routt and Grand counties) said a couple cold, snowy days were not enough.
Parents hope to see their children succeed, but Kendra Halder's level of success this hunting season exceeded even her mother's hopes. Halder, a native of Yampa, bagged a monster bull elk — the first bull she has ever harvested — during second elk season earlier this fall. It was not Halder's first hunt, as the 13-year-old has taken down cows in the past while hunting with her father, John. But this hunt was special, mother Amanda said. "I hadn't gone hunting with her yet, her dad had done that," Amanda said. "I had usually been working. It was fun to go on a hunt with her."
Due to warm weather dominating most of the fall, hunting has not been as productive as Craig and the surrounding area is accustomed to. According to Mike Porras, the Public Information Officer for Colorado Parks and Wildlife northwest region, two seasons of hunting have been less successful than normal. Elk hunting in Parks and Wildlife's area six, which includes Moffat, Rio Blanco and parts of Garfield and Routt Counties, has been characterized as below-average by a small margin.

Craig took center stage in the hunting world recently, when writers and editors from national hunting publications traveled to the city to experience what it had to offer. Elkhorn Outfitters hosted a hunt last week in its Pilot Camp north of town, where a group of hunters came to hunt elk in the high country. Among those visiting were Mike Schoby, editor-in-chief of Petersen's Hunting Magazine. Schoby said Craig is a place he likes to visit regularly to get a story for his magazine. "This is my sixth Craig trip," Schoby said. "It's a pretty special place. This year I've been in Spain, Argentina, Africa and Canada, but every year we try to get to a place like Craig. We have to do a story on elk hunting and you want a photo with that story. You can't do it any better than here."

With hunting draws completed, leftover hunting licenses are now on sale, but not many are available around Craig. In many game management units around Colorado, leftover licenses were still available in plentiful supply for bears, deer and elk as of Aug. 22, according to Colorado Parks and Wildlife reports. Hunting tags for elk in GMUs around Craig, however, have been scarcer. Local licensing agents have been selling tags, but not at the rate they are accustomed to, some said. Leftover tags went on sale Aug. 14 and several area licensers made sales the first couple days, but have been mostly dormant since.